Jared Leto sorprendió con un controvertido look en los Golden Globes que fue objeto de memes y se hizo viral. ¿Qué te pareció a ti?
La de 2021 ha sido una de las ediciones más atípicas de los Golden Globes con una gala mayoritariamente virtual debido a la pandemia de coronavirus. Pese a que los candidatos y premiados han intervenido desde sus casas, las estrellas han sacado sus mejores galas para la ocasión… y algunos de sus atuendos se han convertido en el blanco de los memes.
También lee: Yalitza Aparicio deslumbra en previo a Golden Globes con look 100% mexicano
Jared Leto fue uno de los protagonistas de la noche, ya que estaba nominado al premio a mejor actor secundario por su trabajo en «The Little Things«. Y, fiel a su estilo rompedor, el intérprete revolucionó Twitter con su llamativo look, compuesto por un traje con una enorme flor en la chaqueta.
No te pierdas: Golden Globes: En 77 años, Chloe Zhao es la segunda mujer en ganar Mejor Dirección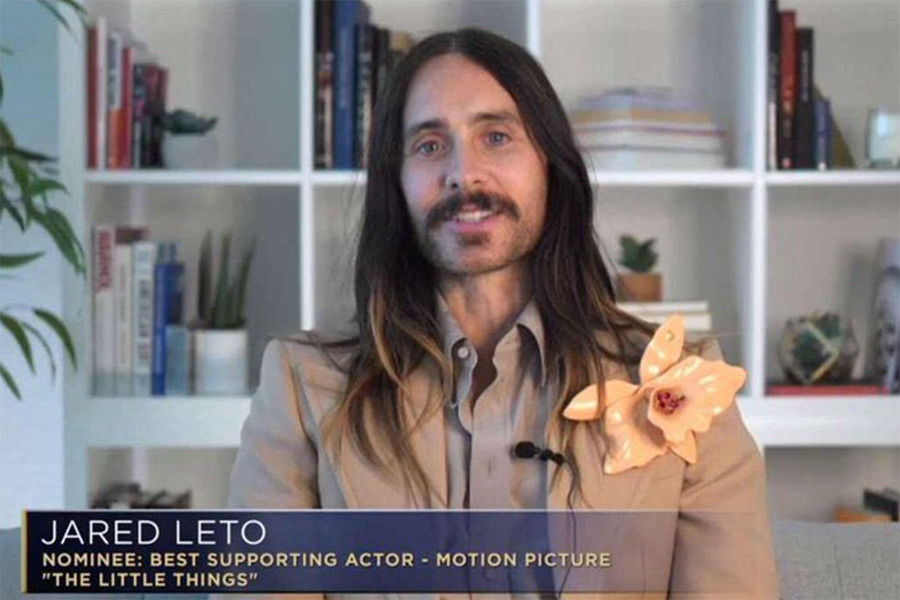 Leto competía por el galardón a mejor actor secundario en una película con Sacha Baron Cohen por «The Trial of the Chicago 7»; Bill Murray por «On the Rocks»; Leslie Odom Jr. por «One Night in Miami»; y Daniel Kaluuya por«Judas and the Black Messiah». Finalmente fue Kaluuya quien se ganó el premio.
El controvertido look de Jared Leto en los Golden Globes que se hizo viral
Jared Leto look like the guy your parents didn't want you to date in the 70s pic.twitter.com/FssKDkJnT9

— n̷u̷n̷t̷i̷u̷s̷ ̷n̷o̷c̷t̷i̷s̷ (@nnneddly) March 1, 2021
Jared Leto clearly got the hummus. #GoldenGlobes pic.twitter.com/54oWuLWVUV

— 𝗠𝗔𝗡𝗢𝗟𝗜 🖐 (@vozos) March 1, 2021
Jared Leto looks like your aunt who wears too much perfume, and your uncle who slips you beer at family functions, merged into one person. pic.twitter.com/v9YhNPH5xC

— Matt Fernandez (@FattMernandez) March 1, 2021
Jared Leto out there looking like an Allman brother #GoldenGlobes pic.twitter.com/ZRhuCFi243

— Niki Cruz (@cruzniki) March 1, 2021
POR EUROPA PRESS.
Cosmo recomienda:
Golden Globes 2021: Mira los looks más impresionantes
La princesa Diana de Netflix se lleva premio. Emma Corrin en los Golden Globes 2021
Golden Globes 2021: Josh O'Connor, 'prince Charles' de Netflix se lleva premio
'Gambito de dama' y los dos premios que se lleva en los Golden Globes 2021
Golden Globes 2021: 'The Crown' como la mejor serie de drama