Salma Hayek figuró en la lista de las mujeres más ricas de Inglaterra.
Y por primera vez en la historia, 150 mujeres se encuentran en la lista de los 1000 más ricos, incluyendo a Rihanna.
Salma Hayek se encuentra en el #6 de la lista, que junto a su esposo François-Henri Pinault son dueños de varios proyectos de bienes raíces en Londres, París, Hollywood y Francia. Su fortuna además se calculó agregando lo que ha ganado por sus negocios de moda y películas.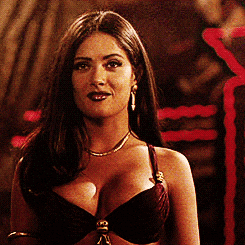 La lista larga de 1000 nombres contiene a otras chicas famosas como Catherine Zeta-Jones, JK Rowling y E.L James.
La lista completa
Kirsten Rausing, £12.1bn

Charlene de Carvalho-Heineken, £10.3bn

Marit Rausing and family, £9.59bn

Kirsty Bertarelli, £9.2bn

Denise Coates, £7.166bn

Salma Hayek, £6.592bn

Baroness Howard de Walden and family, £4.316bn

Leonie Schroder and family, £3.977bn

Carrie Perrodo and family, £3.438bn

Harriet Heyman, £3.047bn

Inna Gudavadze and family, £2.65bn

Princess Marie-Chantal and family, £2.15bn

Sarah Dawson, £2.05bn

Lady Charlotte Wellesley, £2.031bn

Kiran Mazumdar-Shaw, £1.808bn

Varsha Engineer, £1.8bn

Dame Mary Perkins and family, £1.8bn

Emily von Opel, £1.654bn

Anita Zabludowicz, £1.5bn

Lady Ballyedmond, £1.345bn

Marit Mohn Westlake, £1.325bn

Elisabeth Murdoch, £1.2bn

 Yelena Baturina , £1.144bn

Lady Philomena Clark £1.131bn

Ursula Bechtolsheimer  £1bn
Girl power!