¿Recuerdan a una de nuestras parejas favoritas de la pantalla grande? Sí, nos referimos a la que formaron Mandy Moore y Shane West hace 17 años en "A Walk To Remember".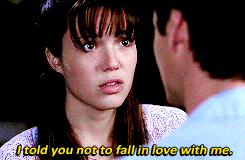 Pues ambos actores se juntaron el día de ayer en la ceremonia más dulce, ya que West dio un discurso de honor para Moore en el Hollywood Walk of Fame en Los Ángeles.
"No podíamos haber sido más opuestos cuando nos conocimos. Estaba muy ocupado usando ropa extraña y usando delineador de ojos. Quería que escucharas a The Clash y a los Ramones pero eras tan linda conmigo", dijo durante el discurso.
Foto: Getty

"Filmar la película fue una experiencia increíble en todos los sentidos, también me dio la oportunidad de enamorarme de esta maravillosa mujer… no podría estar más orgullosa de ti. Te amo".
Como que nos dieron ganas de ir a ver la película 🙁 (Y llorar poquito)