¿Recuerdan el certamen de Miss Universo 2015? Nop, nosotras tampoco, pero ese año fue en el que Steve Harvey anunció mal a la ganadora del concurso. Ese año dijo que había ganado Miss Colombia cuando en realidad la ganadora había sido Miss Filipinas.
Ahora, Steve vuelve a estar en el ojo del huracán por todas las razones incorrectas, gracias a un chiste que hizo a Miss Colombia durante el certamen de este año.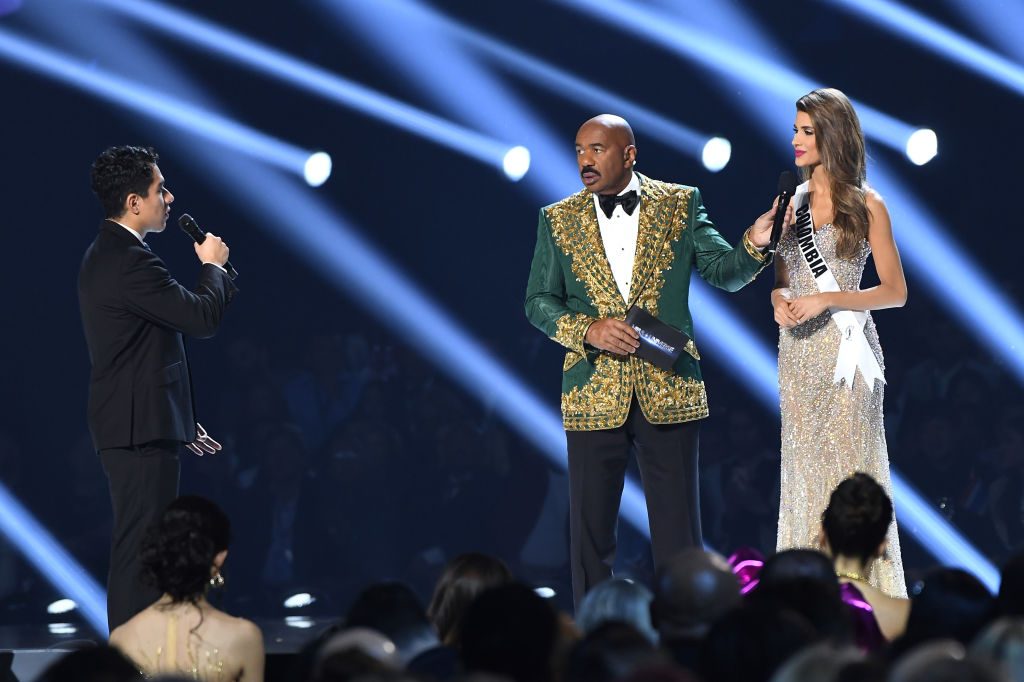 Al anunciar que la Miss Colombia, Gabriela Tafur había llegado al top 20, ella quiso hacerle una broma preguntándole si había leído bien el papel. Él se rió y ella le aseguró que ya lo habían perdonado.
"Tú me perdonaste", respondió Harvey. "Tú me perdonaste pero el cártel no".
Steve Harvey uses cartel joke with Miss Colombia.#MissUniverse2019 #MissColombia pic.twitter.com/D7ODZ21vlx

— JM🅥 (@ItsJM__) December 9, 2019
Lamentablemente, el chiste no hizo reír a muchos. De hecho, usuarios en redes sociales lo DESTRUYERON.
"¿Alguien me puede explicar su chiste? No es chistoso, es ofensivo. Las drogas nos han dado sangre y dolor. Sean respetuosos", escribió uno.
"Yo cuando Steve Harvey hizo el chiste de un cártel hablando con Miss Colombia".
Me when Steve Harvey makes a cartel joke while talking to Miss Colombia. #MissUniverse2019 pic.twitter.com/vbnwMBZ1Qf

— Becky Blackman (@beckyb89) December 9, 2019
"¿Steve Harvey acaba de hacer un chiste sobre un cártel colombiano? WTF! Idiota. No fue nada chistoso",
Did Steve Harvey make a joke about Colombian Cartel? WTF! Idiot🤦🏻‍♀️
It wasn't fun at all 😒#MissUniverse2019 pic.twitter.com/OPFD52imZj

— Carol NH• (@CarolStephaniaN) December 9, 2019
"Hola Steve Harvey. Te perdonamos por el error que hiciste hace unos años. Pero hacer un chiste, en televisión internacional sobre cárteles y la historia violenta de Colombia NO está bien. No lo condonamos. No es chistoso. Duele. Da pena. Esperamos una disculpa".
Hey @IAmSteveHarvey. We might forgive you for a mistake that happened years ago. But making a joke, in worldwide television about cartels and colombia's violent history is not OK. We do not condone that. It's not funny. It's hurtful. It's shameful. We expect an apology from you.

— Crimson Crazed (@crimsoniscrazy) December 9, 2019
¿Creen que se pasó?