El bebé de Meghan y Harry está literalmente a punto de llegar, y ese solo hecho ha hecho que muchas personas (o sea nosotros) deseen actualizaciones minuto a minuto de lo que está pasando con la guapa Duquesa. Comprensible. Pero hay una importante teoría de conspiración sobre la que se preguntan muchos fanáticos reales: ¿Meghan Markle ya ha tenido a su bebé y nosotros simplemente no nos enteramos?
Lo más probable es que no sea cierto, pero aquí te contamos por qué la gente lo sospecha:
Doria Ragland ha estado en Frogmore Cottage desde el 16 de abril
La mamá de Meghan empacó sus maletas y, según informes, canceló sus clases de yoga, para volar a Inglaterra para estar con su hija y el príncipe Harry.
Obviamente, esta es una pista importante de que Meghan tendrá el bebé MUY pronto.
Meghan y Harry ya agradecieron a todos por los regalos para su bebé
Parece un poco extra agradecer a las personas por los regalos antes de que llegue el bebé, ¿no creen? Meghan y Harry hicieron exactamente eso la semana pasada, cuando escribieron en Instagram que agradecían los regalos y donaciones que se han hecho en nombre de su bebé.
Meghan y Harry han decidido mantener en privado todos los planes relaciones con el nacimiento de su primogénito
Hicieron una declaración y dijeron: "El Duque y la Duquesa esperan compartir las emocionantes noticias con todos una vez que hayan tenido la oportunidad de celebrar en privado como familia".
La reportera real, Rebecca English, tuiteó que al parecer, Meghan y Harry tienen preparada una sesión de fotos privada dos días después del nacimiento.
Meghan supuestamente quiere tener un parto en casa
Según el Daily Mail, Meghan realmente quiere tener al bebé en su casa con una partera. "Es su elección favorita", dijo una amiga de Meghan, "pero obviamente depende de cómo estén las cosas más cerca del momento".
Si eso sucede. también podría facilitar que la familia real lo mantenga en secreto. Si Meghan/Harry/bebé Sussex no tienen que viajar a y desde el hospital, un parto incógnito es mucho más fácil.
El príncipe William saldrá de Inglaterra MUY pronto
El príncipe William visitará Nueva Zelanda la próxima semana para rendir homenaje a las víctimas del tiroteo en Christchurch. Va estar allí el día 25, lo que probablemente significa que viajará desde un día antes.
The Duke of Cambridge will visit Auckland and Christchurch on the 25th and 26th of April.

His Royal Highness will pay tribute to those affected by the Christchurch mosques terrorist attack, and recognise the incredible empathy and unity displayed by the people of New Zealand. pic.twitter.com/aFra5X5bvG

— Kensington Palace (@KensingtonRoyal) April 17, 2019
Todos pensaríamos que William no saldrá del país si Meghan está pariendo, así que suponemos que el Palacio de Kensington lo tiene todo perfectamente planeado.
…El príncipe Carlos se va también
El príncipe Carlos también hará un viaje a principios de mayo. Una vez más, uno pensaría que la familia real no programaría un viaje para las mismas fechas en las que Meghan dará a luz, lo que básicamente descarta esa semana de mayo.
Just announced: The Prince of Wales and The Duchess of Cornwall will visit Germany from 7th-10th May 2019.

TRH's visit is at the request of the British Government and will celebrate the UK-Germany relationship and its enduring importance to both countries. pic.twitter.com/eOJoHkBvBL

— Clarence House (@ClarenceHouse) April 15, 2019
Entonces, ¿dónde nos deja eso?
Ok definitivamente no podemos decir con certeza que Meghan no ha dado a luz aún. Sin embargo, cuando nacen los bebés reales, la familia coloca un pedazo de papel en el exterior del Palacio de Buckingham para anunciar la noticia.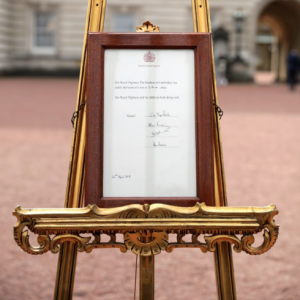 Y como no lo han puesto aún en el Palacio, es seguro que Meghan no ha tenido al bebé.
¡Empieza la cuenta regresiva!
Este artículo fue originalmente publicado en Cosmopolitan US