Amigos y compañeros de trabajo de Naya Rivera han pedido que se ore por ella, después de que se informara que la actriz está desaparecida.
Naya desapareció este miércoles 8 de julio en un paseo en bote con su hijo Josey.
Demi Lovato, que apareció con Naya en Glee, compartió una foto de una vela prendida en Instagram Stories y escribió: "Por favor recen para que Naya Rivera sea encontrada sana y salva".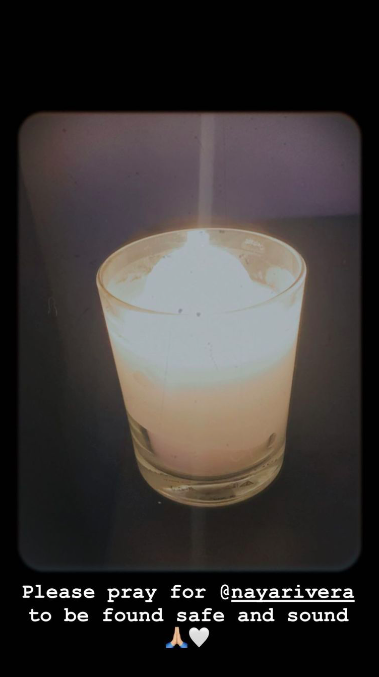 Otra de sus compañeras de trabajo, Heather Morris también publicó en sus Instagram Stories: "Necesitamos todas las oraciones que podamos conseguir para traer a Naya de regreso a casa con nosotros. Necesitamos su amor y luz".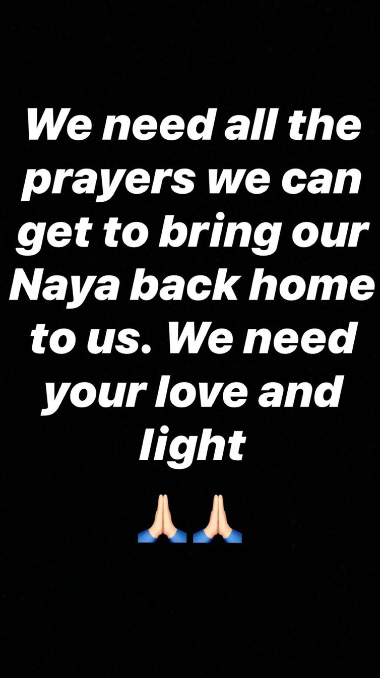 Mientras, otras celebridades aseguraron que estaban pidiendo por la salud de Naya.
Praying.

— Harry Shum Jr (@HarryShumJr) July 9, 2020
Praying for Naya 🙏🏼🙏🏼🙏🏼

— Victoria Justice (@VictoriaJustice) July 9, 2020
Oh God… mercy… please… Actress Naya Rivera, known for 'Glee' missing and may have drowned after going boating on Lake Piru | https://t.co/QBOBaBJwPi https://t.co/NlBldzyQVv

— iqbal theba (@iqbaltheba) July 9, 2020
Prayers up for the lovely Naya Rivera. 🙏🙏

We starred alongside one another in her first very television series, The Royal Family, and I've watched her career blossom ever since. Please God, don't cut this life short. pic.twitter.com/8fRDuuh3oK

— Jackée Harry (@JackeeHarry) July 9, 2020
De acuerdo a las autoridades de Ventura County, Naya rentó un barco motorizado para tomar un paseo de tres horas en el Lago Piru. Encontraron el barco en el agua con su hijo de 4 años dormido y usando su chaleco salvavidas pero Naya no estaba.
Se cree que ha perdido la vida ahogada pero esto no se ha confirmado.
COSMO RECOMIENDA:
Naya Rivera de Glee es reportada "desaparecida" después de que su hijo es encontrado solo en un barco