Tell me why ain't nothin' but a heartache… 🎶
Backstreet's back, alright! Primero anunciaron su crucero (sólo apto para fans), hace un par de meses cumplieron nuestro sueño de la adolescencia y sacaron Don't Go Breaking My Heart, su nuevo single… y ahora los chicos se han vuelto a reunir para cantar uno de sus temas más míticos en un programa de televisión.
VER: Revelan que los Backstreet Boys tenían un crush con las Spice Girls
Los cinco componentes de la boy band acudieron hace tan sólo unos días a The Tonight Show, conducido por Jimmy Fallon, y se animaron a entonar I Want It That Way. Pero no de una manera cualquiera, ¡sino de la forma más random que te puedas imaginar!
Con ayuda del presentador y de otros músicos, Nick Carter, AJ McLean, Howie D., Kevin Richardson y Brian Littrell se vistieron de blanco para la ocasión y se equiparon de instrumentos musicales infantiles con los que, sorprendentemente, acabaron haciendo una de las mejores interpretaciones del tema que hemos escuchado JAMÁS.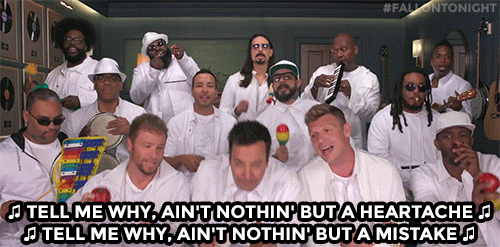 https://www.youtube.com/watch?v=gMFsCqrJqwI
Reconócelo, ahora no te podrás quitar la canción de la cabeza…